The Inflatable Ice Cream Ball
08/07/2012 15:40 ● By Rick McGarry
By Laura Webber
The Inflatable Ice Cream Ball requires no electricity and provides 30 minutes of activity and entertainment for children. Pour milk, vanilla and sugar into the ice cream ball, place it inside the inflatable cover and kids can toss, gently kick, roll and throw the ball around your yard, campsite, the pool or the beach until the ice cream is ready to enjoy.
My family and I were invited to take YayLabs Ice Cream Ball for a test drive during the million degree heat wave this summer (well, million degree heat wave may be a slight exaggeration, although it sure didn't feel like it), and trust me, it was a welcome addition to our family. We were given the pint- sized ice cream ball, and I was thankful for the inflatable ball cover that was also included, so that rolling our ice cream indoors didn't scratch the floors or sound like a herd of wildebeest were streaking through our home.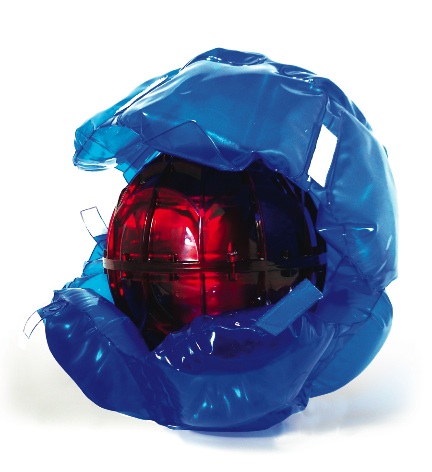 The Ice Cream Ball is packaged in what looks like a giant icee cup complete with the clear domed lid, quart-sized or pint-sized, and I honestly think it would make a perfect gift. I have 2 kids, one four years old and one just sixteen months old, and although they were completely entertained by rolling a ball in the house (the big guy rolled with me and the little guy supervised), I would imagine that kids older than my boys would really love creating tasty frozen treats with siblings or friends.
In our family, we have food allergies, one boy with nut allergies and the other with a milk allergy, often causing me to stand in the frozen section forever. Reading the labels on every single commercially packaged frozen treat isn't my favorite way to spend time, so I usually just end up skipping those aisles and make my own treats instead. This way I can purchase healthful ingredients and be confident that the treats are free of allergens.
YayLabs includes several tasty recipes inside the easy to follow instruction booklet. Our first ice cream making experience was mixing the ice cream classic, vanilla, and it was amazing. Three ingredients -- cream, sugar and vanilla -- were all that was necessary to create our ice cream. In addition to 'food ingredients' and a little muscle power, we also had to fill a second cavity of the Ice Cream Ball with ice and rock salt. I'll admit that the hardest part of making our ice cream was finding the rock salt. We found it at Target in the small appliance section. (You're welcome.) When our ball was filled and our inflatable ball cover was attached, we rolled our little hearts out, and it was totally worth it. We checked our progress after 10 minutes of rolling, and the center was still pretty liquidy (again, I blame the million degree heat wave), so we continued rolling for nearly 20 minutes more and then sat down to enjoy our well-earned treat. My four-year-old, upon first taste, shouted, "Love it!" and began making plans to try another batch the following day. Even my husband gave his seal of tasty approval. And although the little (milk allergy) guy didn't get to taste our initial batch, we're planning to make him a batch of mango fruit sorbet soon. In fact, YayLabs has frozen treat recipes for nearly two dozen treats in the instruction booklet, also including how to create frozen yogurt and even grown-up treats.
The Inflatable Ice Cream Ball sells for $50 at industrialrev.com.
Laura blogs about couponing at http://www.sharpenyourscissors.net/ and about life at http://mrsdavewebberspeaks.blogspot.com/