The Human Cannonball
09/06/2012 13:59 ● By Rick McGarry
 By Bill Messner-Loebs
When you go through life with a name like Walter Dorckley, and with life skills that revolve around personal embarrassment and blowing stuff up, you become a kid who only sees himself bagging groceries, and living with his zombie mom and grandma for the rest of his life. That was Walter''s vision of the future, until the circus comes to town.
 I liked the feel of this nameless small town. It reminded me of the childhood memory pieces Ray Bradbury would write, or some of the lighter work of Stephen King. It is one of the stranger small towns in current Indie comics, and the circus turns out to be one of the stranger circuses.                  
 Rick Schlaack of Pinckney has created a truly impressive story here. I love the way Walter extorts an assistantship from Sidelong Sidely, the Human Cannonball, and the effortless hilarious cameos of Sidely's completely unvengeful Romanian ex-wife, Gabby the irritating clown, a talking snake, and a figure of mysterious evil. Having lived in small towns in Maine, Michigan and Louisiana I can assure you talking snakes and mysterious figures are par for the course.  I can hardly wait for issue two!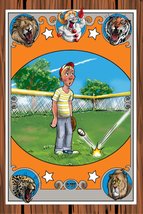 Bill Messner-Loebs has written for both Marvel and DC — such books as Wonder Woman, Flash, Hulk and Spiderman and created such books as Journey, the Adventures of Wolverine MacAlistaire, Bliss Alley and Epicurus the Sage.  He lives in Pinckney, Michigan.