Valley View Organic Farm Looks Forward to Successful First Year
02/19/2013 13:52 ● By Rick McGarry
BRIGHTON, MICHIGAN-- Livingston County will reap even more of the bountiful rewards of organic meats and vegetables this year as a new organic farm establishes roots in Brighton. Valley View Organic Farm offers products that are grown and raised in accordance with National Organic Standards.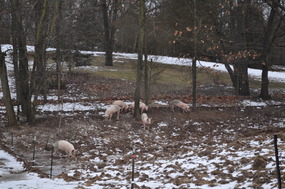 The organic industry is enjoying faster sales growth than the conventional product industry due to increased consumer demand and awareness. In 2011, the organic industry grew by 9.5 percent overall in 2011, even while our nation faced economic hardship.  Valley View Organic Farm believes that consumer interest in local organic foods is due to their health benefits and minimal environmental impact.
Still in its first year of business, Valley View Organic Farm LLC has already launched several initiatives.. Products currently offered by the farm include whole and cut organic chickens, whole and half organic pigs, and organic seedlings.
Mark St. Germain purchased the Livingston County farm last year and also owns an 80-acre organic farm in Harbor Springs, Michigan. He has lived in the Brighton community for 20 years, where he has raised three children.
"I have always wanted to create a business that really changes the way people think, in a good way," St. Germain stated. "The mission of Valley View Organic Farm is to nourish the community by fostering the growth of plants and animals. We want to showcase the 'farm to plate' philosophy, not just preach it. The farm actually provides an experience that, I believe, will create a lasting impression on its visitors and the community as a whole."
This year, Valley View Organic Farm is anticipating the launch of flower and produce sales, educational classes, field trips and other surprises. The educational classes will focus on gardening, preserving, canning, flower arranging, and vermi composting.
"I'm looking forward to seeing how the farm grows and how, as a team, we impact the people living in the area," St. Germain comments. "I know that our business model is one that will not only excel in this economy, but bring new experiences, educational lessons, and values to the families living in the community." Staff members supporting the local organic farm's growth include Ben Hicks, the Farm Specialist, and Kerry Vetter, the Director of Marketing and Farm Coordination.
Find Valley View Organic Farm on Facebook
Written by Dawn Papple. Dawn is a lifelong Livingston County resident and freelance writer. Dawn also writes for the Everything Birth natural parenting community.