Why I Teach Children Music
05/15/2013 01:00 ● By Rick McGarry
By Kacie Wooster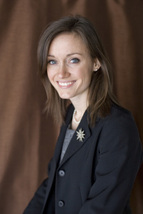 In 2013 I celebrated my first Mother's Day as a mother, and I can now understand how parents want the best possible life experiences and opportunities for their children. That's how I feel about my daughter; I want to give her the world so she can explore, grow, and become the best woman she can be.
I also realize more than ever the way my parents saw a spark in me and guided me toward that spark throughout my life. I am truly grateful to them and owe my career success largely to them for helping me pursue my interests even at a young age when perseverance was a word I didn't understand.
Musical exposure starts when hearing develops in the womb and continues to blossom throughout early childhood. Our aptitude toward musical skill begins to stabilize around the age of 9. Something I hear all the time as a music teacher from parents is, "I can't carry a tune in a bucket." I always ask them if they had any musical exposure or experience at a young age, and often their replies are "absolutely none" or "I quit after a few years because I didn't like to practice."
These responses remind me of the study where the eyes of mice are covered with a blindfold and not used for a period of time. When the blindfold is removed, the poor mice are blind due to the lack of use of their eyes.
Exposure is everything! I believe that lack of exposure or the early termination of music study in the parents' lives drives them to want that rich musical foundation for their children.
Alternatively, some families come to lessons or classes from very musical backgrounds and hope to pass their passion for music on to the next generation.
Regardlless, I have found little ones are so musical! I teach early childhood music and movement classes and have seen newborn babies cry in the tonality of a song, infants rock on hands and knees to the beat, toddlers imitate and create their own rhythmic and tonal patterns, and young elementary students perform in ways that are tricky for some college students! I am constantly amazed at the abilities of children!
I encourage you, parents, whether you were a music major in college, you quit piano after one year and regret it, or you never have sung a note in your life: see that spark in your child and cultivate it through exposure, experience, and perseverance.
I plan to be a music teacher for as long as I am able because I remember how my heart soared singing harmony in the car with my dad at age 5, I remember the stirring deep in my gut the first time I heard Beethoven at age 7, and I long to help little ones connect to their passion for music and to help them gain the skills they need to be music makers for a lifetime!
Fall Classes start October 2 at Bloom Baby and Kids in Brighton.
Kacie Wooster
Private Vocal & Piano Instructor
Early Childhood & Elementary Music Teacher
810.923.8292
Kaciewoosterstudio.weebly.com