Books for Babies
12/21/2013 14:48 ● By Rick McGarry
                        By Susan Coursey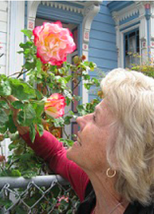 Neither my parents nor my husband's parents read to their children. Reading was considered an academic skill taught in school. Our parents provided books for us to read when our interest and skills in reading were obvious.
My husband and I love reading and wanted to share our passion for reading with our three sons as early as possible.. We began cuddling my oldest son while reading and playing with board books when he was only six to eight months old. An early priority for our son was to be held by one of us. He treated his favorite bright and colorful board books as toys, opening and closing each book. 
Around age nine to twelve months, our son's enjoyment and excitement in book interiors took off, and choice of books became more important. 


What types of books engage a baby's interest and encourage a baby's  love of reading? 
Choose books that your baby considers fun. Pick board books with big colorful pictures on each page and rhyming text. Select whatever your baby likes best at the time, putting other books aside to introduce later.


Read books that engage the baby, those designed for the baby's interaction.
Included are books with mirrors, those with buttons or tabs that can trigger animal sounds, Lift-the-Flap and Touch and Feel books. Our grandchildren's favorite Touch and Feel Books are by
Roger Priddy
and very inexpensive. Special favorites include
The Kitten Book Touch and Feel
and
On the Farm Bright Baby Touch and Feel.
My grandson loves the front page of On the Farm best with the duckling feathers featured; this is a book he plays with on the floor and loves for reading at night!
Introduce a love of reading to your baby early, select books carefully, and instill a love of reading.
Susan Coursey is a children's book author and editor of the website DigitalSmartpen.com, a resource with articles providing guidelines and examples for creation of interactive talking storybook elements. Her book is called How do you make a Dragon Laugh?:Lia's Magic Dragon. 
Susan has an article on page 10 of the January 2014 Issue.