Livingston County Summer Camp Guide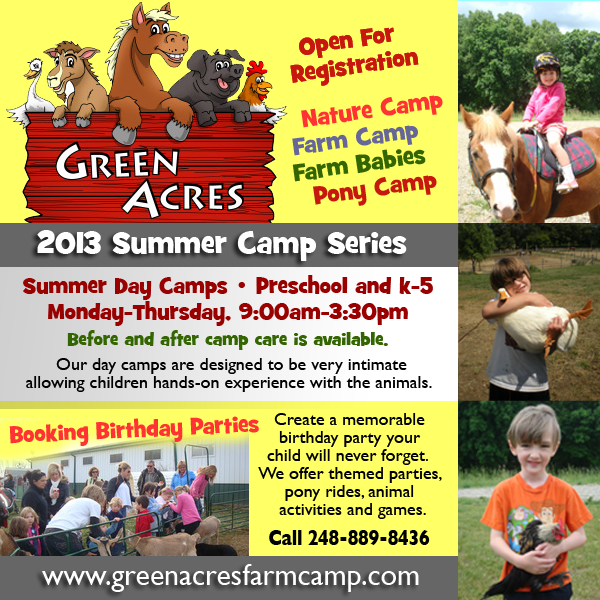 COMMUNITY THEATRE OF HOWELL 
Youth Summer Theatre Camp 
517-294-0738
The Community Theatre of Howell will offer a theatre camp experience this summer centered on musical theater production and focused on enabling all children to experience the fun, excitement and challenge of performing while developing their own talents, strengths and qualities. For this reason we accept all children, whatever their ability or experience. All that we require is energy and enthusiasm. Students will review the basics in their acting class, but then progress forward, learning the proper way to audition, take on character voices, learn character analysis and do lots of improvisations. Everyone will have a chance to show their family and friends their newly learned skills! Registration deadline is July 1st, with an early registration discount until June 1st
Howell High School Freshman Campus
July 8th, 2013 – July 19th
$170
For students entering 1st through 12th Grade in Fall 2013
lpeasley@umich.edu  
TIPPING POINT THEATRE 
Click Here for Address and Phone Number
Actors Boot Camp for Teens will focus on the building blocks for acting techniques. The first session is new and will focus on using voice and movement and the second session will be focused on the craft of acting. These sessions are designed to add to your actor's tool belt of techniques you will use throughout your career. Maximum of 12 students; two sessions available.
Session 1 – Voice & Movement, June 17-21, 10am-1pm
Session 2 –Acting Technique, June 24-28, 10am-1pm
Ages 12-18
$175 for 1 session - $300 for both
Audition Intensive is a dynamic 1 week course designed to prepare the next generation of actors & actresses for the high school, community theatre, professional theatre, and college entrance auditions.  Participants will receive one-on-one monologue and song coaching, dance audition training, introduction to the college audition process, discussion with industry professionals, tips about essential audition techniques, headshot and resumé preparation, and will participate in mock auditions. Maximum of 12 students.
July 8-12, 1pm-5pm
Ages 14-18
$300 - (save $50 if paid in full by May 1st
Fairy & Troll is a half day camp for children grades 1-3 will concentrate on play and imagination as campers learn about fairy/troll myths and legends through literature, music, games, and art activities.  One day involves a nature walk to collect and gather items to build fairy houses. The week culminates with a theatrical Fairy/Troll Adventure performance for invited family and friends. Maximum of 20 students.
July 8-12, 10am-12pm
Ages 6-8
$200 - (save $25 if paid in full by May 1st)
At Technical Theatre, focus on some new theater skills before you head back to school! Students will learn about many aspects of working behind the scenes of a theatrical production, such as lighting, set construction, and costumes. Students will also participate as technicians in the final Show Stoppers camp production, July 26th. Maximum of 6 students.
July 15-26
Ages 14-18
$300 - (save $50 if paid in full by May 1st)
Summer Show Stoppers is designed for the student who has had theatre experience, as well as the student who has never stepped on the stage. The student will learn theatre, by doing theatre with professional members of the theatrical community. The session will culminate in a full stage production on the Tipping Point stage. Maximum of 20 students.
July 15-26, 9:30am-Noon
Ages 8-11>
$350 ($275 for returning & multiple campers)
tix@tippingpointtheatre.com  
AWARD WINNING HORSE CAMP 
Wildwind Equestrian Center 
Click Here for Address and Phone Number
Bring your children to the Wildwind Equestrian Center to make memories, meet new friends and be exposed to a healthy sport. According to a recent study, a one-hour English riding lesson is the same as a 45-minute aerobic workout. Wildwind Horse Camp features seventeen years of camp experience, a perfect safety record, experienced instructors and more types of camps than any other facility. They have more than 30 school horses and ponies and programs for beginners and intermediate riders. They are all owned and trained by Wildwind. Wildwind Equestrian Center's horse camp is a chance for a horse-crazy student to spend the entire week with horses. Kids come to horse camp to ride, and they ride a lot. If you want to spend your time doing arts and crafts and watching videos, don't come to this camp. Campers spend each day with horses learning to ride and care for them. Each week ends with a horse show and picnic for family and friends. Discount for early registration. Awards: Multiple year winner for Best Stable (Hometown Newspaper)
Mid June - End of August
Regular Camp is for 7-16 year old beginner and canter riders
Tiny Tots Camp is for 4-6 year olds, 9am-12pm
Jump Camp, 9am-3pm
Fossils for Fun Camp is for Adults and Seniors, 10am-3pm, July 22-26 Only
CAMP JUMP IN 
Click Here for Address and Phone Number
Camp JUMP-IN is an intensive therapy camp led by experienced occupational therapists. Camp is designed to improve motor skills, sensory processing, social interactions, self-care, and learning abilities in children with special needs. Camp is challenging for individuals while maintaining the fun of a camp experience. Each child's program is tailored to meet their individual needs. Camp has a ratio of two staff per child to facilitate goal attainment. Activities involve the use of dynamic equipment, gross motor activities, social interaction, brain gym, language, body work and swimming. Typically, staff includes occupational therapists, physical therapists and speech and language therapists. A parent is expected to stay at camp with their child and participate in activities as needed. Campers new to JUMP-IN, need an evaluation to allow the best programming and goal development for each camper. Schedule your evaluation early so you can begin your home program and improve the function of your child's nervous system to ensure that your child receives the maximum benefits from camp. Tuned up campers typically make progress obtained in six months of standard therapy. Persons interested in volunteering or obtaining experience for college please contact the office for an application.
July 22-August 2
Monday-Friday 9am-Noon
info@jump-in-products.com
YMCA STORER 
Click Here for Address and Phone Number
YMCA Storer Camps are located in the Irish Hills of Southeast Michigan and offer summer resident camping programs to children entering grades 2 through 12. Storer provides campers with the opportunity to gain self-confidence in the mastery of skills such as horseback riding, canoeing, kayaking and sailing. Campers gain a better understanding of the environment by exploring 1,200 acres and 15 different ecosystems.  There are also the challenges of the five element high-ropes course and 50' climbing tower. In addition to camp, Storer offers Outdoor Environmental Education for schools and custom programming for groups. Visit during an open house on April 10 or May 15 from 2-4pm to learn more.
Grades 2-11
YMCA CAMP NISSOKONE 
Click Here for Address and Phone Number
At YMCA Camp Nissokone kids discover new skills, make friends, gain confidence, develop life and leadership skills, and practice teamwork. Located in Oscoda on Lake Van Etten, Nissokone is a perfect place to learn sailing, kayaking, fencing, water skiing and wakeboarding. Other favorites include: paintball, horseback riding, the high ropes course and the zip line. In addition, Ranch Camp and Teen Leadership Camp offer specialized programs for intense learning and fun. Financial assistance is available. Family Camps are offered Memorial Day and Labor Day weekends, or bring the family for an entire week of adventure over July 4th.Visit us on our Free Family Fun Day: June 16!
Day Camp: Grades K-8
Overnight Camp: Grades 3-11
Visit their website
camp@ymcadetroit.org
YMCA Camp Ohiyesa 
Click Here for Address and Phone Number
At YMCA Camp Ohiyesa, kids get outside, make friends, gain confidence, develop life and leadership skills, and practice teamwork. Located in Holly, just minutes from US-23 and M-59, Ohiyesa has a rural farm setting on Fish Lake perfect for Day Camp, Overnight Camp and Family Camp. Well-trained staff guide campers through a fun and adventurous day to create a summer camp experience they will never forget. From the 100-foot "Wet Willie" waterslide, ranch program, giant swing, canoes, archery and inflatable bounce village, Ohiyesa hosts a wide variety of activities. Specialty camp options add to the fun with CSI, Survivor, Mythbusters, Creative Arts, Film, and Robotics. Financial assistance available. Visit us on our Free Family Fun Days: April 22, April 28, and May 19.
Day Camp: Grades K-8
Overnight Camp: Grades 3-10
Visit their website
camp@ymcadetroit.org
BOUNCE - HARTLAND SPORTS CENTER  
Click Here for Address and Phone Number
Bounce has 110,000 square-foot of FUN, including in-ground trampolines, loose foam pits, a cargo net and much more, at the Hartland Sports Center. Bounce makes summer a time for learning new skills, staying active, and gaining confidence. They have professionally-trained, nationally-recognized, safety-certified coaches and programs. From Gymnastics and Tumbling, to Tae Kwon Do and Cheerleading, they are your one-stop shop for kids' training! Bounce has a variety of fun programs and classes to meet your busy schedule.
"School's Out...We're In" Program is for ages 5 and up. Bounce offers Gym Games, Open Bounce, and Craft Time with our Coaches. Drop off as early as 9:00am; pick up as late as 5:00pm. Stay as many hours as you like. $5/hr per child (2 hour minimum) or $35 for full day. Children bring their own lunch, snack and water bottle. All participants must have a parent-signed release form - available on our website.
Open Bounce is a non-instructional play time for all ages. Monday - Friday, 1:00pm-2:30pm. $10/per child or punch card pricing is available.
Parents with Preschoolers (Ages 4 and under) may attend with their child during "School's Out...We're In" Program between the hours of 9:00am-12:00pm for $5/hr per child.
If you are interested in Gymnastics, Tumbling, or Tae Kwon Do classes, the flex-schedule allows parents to pick the number of weeks-6, 8, or 10-and only pay for the number of classes you want. See our website for more details.
SHOWCASE STABLES HORSEMANSHIP CAMP 
Click Here for Address and Phone Number
The goal at Showcase Stables, Inc. is to teach horse safety through fun learning activities to help children find a love and respect for horses. Combining riding lessons with smart horsemanship provides a safer and more enjoyable approach to learning about the horse.  The priority is to provide a safe learning environment for all of the campers. All instructors are knowledgeable horsemen with years of experience in the show ring and lesson arena. The entire staff uses high safety standards with a camper to instructor ratio of five to one. (Please note there is a smaller ratio of four to one for the Young Rider Camp.) Showcase Stables, Inc. provides and requires all campers to wear a certified safety helmets while riding and driving the horses. Young Riders Camps are for the tiniest of riders! (Ages 4-6)  Daily activities include riding and basic horse care. At Horsemanship Camp (Ages 7-12) campers enjoy daily riding sessions as well as working towards a Fitting and Showing horse show held friday afternoon. Daily activities revolve around learning skills that will be demonstrated on show day and also include activities that involve learning about horses. Best of all, family and friends are invited to the show to watch the campers show off their new skills!
IXL LEARNING CENTER Hamburg 
Click Here for Address and Phone Number and Email
IXL LEARNING CENTER Howell 
Click Here for Address, Phone Number and Email
Who wants to tour the BIG HOUSE, get wet at Kensington Splash n' Blast or show off your golf skills at the glow in the dark putt putt?! IXL is the place to be in the summer for fieldtrips like these! Enhance your child's summer with fun and learning at IXL Learning Center, which offers locations in Hamburg and Howell. Michigan Certified elementary teachers are eager to create a place for campers to explore, play and have a blast! Campers will have an exciting summer filled with unique, educational, and entertaining experiences such as field trips twice a week, theme days, water play days, science experiments, art and much more! IXL also incorporates an "independent study period" to strengthen individual skills, if needed. Healthy snacks and lunch are provided. Please call for pricing and availability!
Ages 4-12
Monday-Friday 7am-6pm
CAMP BLUE SKY 
810.545.8181
Southeastern Michigan's Inclusive Outdoor day camp for campers with special needs is the most fun place to be this summer! We offer horseback riding, canoeing, swimming, outdoor cooking, zip line, games and more for the full summer camp experience in a nurturing, adult supervised, "challenge by choice" environment. Camp Blue Sky is located on the grounds of YMCA Camp Ohiyesa in Holly, Michigan. Daily transportation is available from several locations throughout Macomb, Oakland and Livingston Counties.
Ages 7-16, call about adult programming
Weekly sessions June 17-21 and July 1- August 23
Visit their website
info@campbluesky.net
ROCK CLIMBING DAY CAMP 
Click Here for Address and Phone Number
Planet Rock Climbing Gyms in Ann Arbor and Pontiac
Climb walls five stories high at camp this year! Yep, just like spider man. Planet Rock has the largest climbing gyms in North America with over 38,000 square feet of climbing surface. With experience dating back to 1996, Planet Rock provides a safe environment in which kids experiment with movement, practice teamwork, and have lots of fun. Knowledgeable and experienced staff will instruct campers in proper safety precautions as well as skills and techniques for climbing. Agility, Balance and Coordination (ABC) Camp for younger kids (ages 4-7) incorporates climbing skills and safety with yoga, gymnastics and educational games. Space is limited to 20 campers, with an average staff to camper ratio of 1 to 4. Kids ages 8-15 learn climbing safety, build self-confidence, and use new muscle groups while learning teamwork and communication skills. Space is limited to 30 campers with an average staff to camper ratio of 1 to 5.
Ages 8-15, M-F from 9am- 2pm - extended camp offered selected weeks 2:00-5:30pm
Ages 4-7, M-F from 10am-1pm (Ann Arbor only)
KARATE KLUB 
Click Here for Address and Phone Number
Ohana Karate
The primary objective of this safe and professionally designed camp is to get your child ready for the new school year. Kids really do love structure and discipline. Keeping a child learning and active over the summer is the key to getting them off to a strong start in September!
Younger campers will learn skills like "How to Listen," "How to Follow Directions," and "How to Wait Their Turn". After that they will go on to the important attitudes like "Try My Best," "Never Give Up," and "Never Be Afraid to Make Mistakes."
For the older camper – Does your child quit when things get hard because they lack self confidence? Is your child shy or afraid to try new or hard things? Could your child be more focused? What would your child be like with more self-esteem or self- control? Karate is not about kicking and punching. It is really about building a child "from the inside out." It is about improving yourself to be able to overcome your fears. After that, karate is building the behaviors, habits and, most of all, the character traits of successful, happy children and young adults. It is much easier to develop a great kid now then to try to 'fix' them as teenagers!
Day Camp for ages 6-14
$16 per guest includes ticket, great memories, food, fun, birthday gift & more!
Visit their website
sensei@ohanakarate.com
VARSITY DAY CAMP 
Click Here for Address and Phone Number
Varsity Day Camp has been family owned and operated since 1950. Activities are conducted on a 40 acre site located 1/2 mile south of M-36 on Cordley Lake Road on the west shore of Cordley Lake. Varsity Day Camp is licensed by the State of Michigan and the Livingston County Health Department. Every effort is made to assure the health and safety of campers. The program is highly organized, supervised and child-oriented. Campers are free to choose their activities. Activities include: Archery, arts & crafts, baseball, soccer, lacrosse, basketball, box hockey, tetherball, canoeing, rowing, sailing, paddle boating, nature lore, Red Cross swimming instruction, recreational swimming, fishing, and games. The best part is that your child gets to choose what they want to do and when. The camp day includes two morning activity periods, a full nutritious lunch, and two afternoon activity periods. Our carefully selected staff is comprised of former campers, college students, teachers, and professionals who are trained to be outstanding camp role models.
Boys and Girls Ages 6-13
June 17-August 9 Monday-Friday 8:45am-4:20pm Extended Care available
$40.00 per camper, per day, Plus a onetime per family administrative fee. The tuition fee includes lunch, insurance, arts & crafts supplies, all activities and instruction. Campers may register for any combination of days.
CAMP KESEM 
(734) 707-7509
Camp Kesem is a free overnight summer camp run by college students for children who have a parent who has cancer, who is in remission from cancer, or who has passed away from cancer. Everything done at Camp Kesem focuses on the goal of giving campers the most fun week possible, while providing the extra support and attention that they need. Common activities include: boating, swimming, drama, arts and crafts and other nightly events. Many team-building exercises are incorporated in daily activities as well. Campers also participate in "Cabin Chats" with fellow campers and counselors, giving children the chance to share their experiences with each other. There are plenty of laughs and lots of emotional support. (Camp Kesem does not provide therapy). Additionally, they invite teen campers, ages 14-16, to join us for Camp Kesem's teen leadership camp. They also offer offer a Counselor-In-Training program for 17 and 18 year olds. The tremendous fun and support campers experience is what makes Camp Kesem a transformative, magical week for campers and counselors alike.
FREE
Ages 6 - 16
August 11-16
Camp Kesem takes place on the grounds of Camp Copneconic in Fenton.
Visit their website
Michigan@campkesem.org
CAMP CATCH-A-RAINBOW 
1-800-227-2345
Cancer survivors between 4 and 15 years of age from Michigan, Indiana, and Ohio are invited to take part in one of two camping programs offered free of charge by the American Cancer Society, Great Lakes Division. Young Camper's Day is a one-day program offered for children 4 to 6 years old and will be held on June 16. Camp Catch-A-Rainbow is a week-long summer camping experience held June 16 to June 21 for children between the ages of 7 and 15. Children have access to activities such as swimming, archery, horseback riding, canoeing, arts and crafts, and much more. Health care professionals are available at the camp 24 hours a day to monitor each child's special needs. Most medical treatments, with the exception of radiation therapy, can be done on-site or at a nearby cancer center. Registration deadline for Camp Catch-A-Rainbow is May 31.
Ages 4 - 15
FREE
Camp Catch-a-Rainbow takes place on the grounds of YMCA Camp Storer in Jackson
YMCA CAMP COPNECONIC 
Click Here for Address and Phone Number
810.629.9622
Since 1915 Camp Copneconic has provided quality outdoor recreation experiences for children. Today they operate year round offering summer resident and day camps, school programs, youth retreats, adult retreats, special events, conferences, family/youth programs and team building. Their goal is to provide facilities, services and programs that make your visit an enjoyable experience leading to lifelong memories. Whether your aim is to find a special summer experience for your child, use the accommodations to conduct your own programming, or to call on our staff to lead activities for your group, Camp Copneconic strives to provide a safe and enjoyable experience for all. They are ACA accredited. Camp Copneconic offers Summer Overnight Camps (ages 7 to entering 12th grade), Day Camps (ages 3 to entering 7th grade), Outdoor Education, Team Building, Heroes Retreat, Family Programs, Youth Retreat, Adult Retreat, and Special Events. Camp Copneconic features three zip lines, two waterfronts, two archery ranges, two basketball courts, low ropes course, double-decker high ropes course, bird blind, reptile room, Dig It Pits, GaGa Pits, horseback riding with miles of trails, hiking, campfires, arts and crafts, fishing, kayaking, canoeing, and character development. To tour camp and get more information, please visit one of our Summer Camp Previews: March 10, April 14, May 5, or June 2rd from 2 pm to 5 pm. Visit our website to register for a Summer Camp Preview or for more information about our programs..
Grades 2-12
GARDEN GATE MONTESSORI 
Summer Camps at THE GATE 
Click Here for Address and Phone Number
Jump into summer with us as we travel into the arts. Garden Gate Montessori encompasses children's interest along with inventive planning to ignite curiosity through a multitude of venues.  Our campers will see old friends, or meet new friends and build lasting friendships as they reconvene summer after summer.
June 17th – August 28th Universal Studios:   6 – 8 year olds & 9 – 12 year olds
  Each child can embrace one of the many characters illustrated throughout the Universal Theme Park.  Whether your child is 6-8 years old or 9 – 12 years old, characters, themes, field trips and developmental appropriate activities will pack their summer days full of fun and adventure.  Field trips will be planned 2 - 3 times a week; such as swimming, water parks, movies, theater, ropes course, laser tag, etc.
  (Activity Fee - $210 – includes field trips)
  (Rates charged weekly – 4 or 5 days - $38/day; 2 or 3 days - $42/day) – 2 day minimum
June 17th – August 28th Magic Kingdom:  3 – 5 year olds
   3 – 5 year olds will enjoy each summer day in the Magic Kingdom.  They will be making new friends, creating with their imagination, and enjoying in house filed trips.  In house field trips will have the children exploring - acting, sports, safety, dance and storytelling.    Special Guests will take them on a magic carpet ride through the Kingdom of imagination and creativity.
  (Activity Fee - $150 paid with registration)
  (Rates charged weekly - 4 or 5 days - $40/day; 2 or 3 days - $45/day) – 2 day minimum
Individual weeks available – Please call Garden Gate Montessori for pricing
Ages 3-12
BRIGHTON COMMUNITY ED 
Click Here for Address and Phone Number
Brighton Community Education's Enrichment Program offers a wide variety of summer camps for kids of all ages.
GRASP (Grades K-8th) is a 9-week correspondence program which helps students maintain reading and math skills while on summer vacation. This is a great summer program to do at home with your child – each weekly lesson only takes 1 hour.
June 10 –14 Junior Lego Engineering (9am-12pm) Ages 5-8
Collision Cars (1-4pm) Ages 8+
June 18-20 Mad Science Digging for Dinos (9am-12pm) Preschool (3-5)
June 24-27 Painting & Art Camp (10am-12pm) Ages 5-6
Painting & Art Camp (1-3pm) Ages 7+
July 8-12 Mad Science NASA Camp (9am-3pm) Ages 6-11
July 15-17 Mad Science NASA Camp (9am-12pm) Preschool (3-5)
July 15-19 PKSA Little Ninjas (10-10:30am) Ages 4-5
PKSA Kids Power Karate (10:45-11:30am) Ages 6-12
Amazing RollerCoasters (8-9:50am) Ages 8-11
3D Video Game Design (10am-11:50am) Ages 12-15
2D Video Game Design (12:30-2:20pm) Ages 8-11
Stop Motion Animation (2:30-4:20pm) Ages 8-11
July 22-25 SPARQ Camp w/ Coach Jackson (9-11:15am) Ages 8-15
July 29 – August 2 High Touch High Tech Science Camp (9am-3pm) Ages 5-10
July 30 The "One Direction" Bash (10am-2pm) Ages 7-12
August 5-8 Summer Study Skills (9am-12pm) Ages 10-13
Summer Study Skills (1-4pm) Ages 14-18
August 6-9 Lights Camera Acting! (1-4pm) Ages 5-8/9-12
August 16 Enchanted Princess Party (10am-12pm) Ages 3-7
August 12-15 Camp Love to Dance (9am-12pm) Ages 4-7/8-12
Advanced Painting & Art Camp (10-12pm) Ages 8+
August 12 – 16 Chess Wizards (9am-12pm) Ages 5+
We have more camps still in the works – check our website for the latest updates! Registration begins March 30th. Camp space is limited – register early! Call 810-299-4130 for more information or visit our website at www.brightoncommunityed.com for ALL camp information and details.
BRIGHTON MONTESORI 
Click Here for Address and Phone Number
The following themes will be taught during Brighton Montessori's 2013 Summer Progra
European Traveler
Get your passports ready!! Students will take an adventure through a variety of countries in Europe. On this journey an introduction to the customs and life style of each region will be explored. By celebrating other traditions with food, music, and stories children will begin to see the uniqueness of other cultures.
Water Exploration
We will use science to discover how water looks, feels, tastes, and sounds. We will also create adventures. Prepare to get wet!
Artist of the World
Children are introduced to famous artists and their work. Specially designed art projects support the theme by exploring a variety of media in a fun and memorable way.
Creepy Crawly Fun
Children will learn about different amphibians and reptiles, including snakes, frogs, and lizards. Students will learn interesting facts and explore habitats, as well as creating one of a kind creepy crawly crafts
Storybook Adventure
Each day, students explore a special children's storybook. Activities include a unique craft project relating to the chosen literature of the day, dramatic play, cooking, and music.
Rocks, Trees, and Plants, Oh My!
Exploration of rocks, trees, and plants with the students outside and inside! Nature walks, bark rubbings and many other activities will teach children about their world around them in a fun playful way.
Piano Lessons will be offered and ongoing throughout the summer.
May 28 – August 30
brighton.montessori@yahoo.com
HOWELL CONFERENCE AND NATURE CENTER 
Click Here for Address and Phone Number
Accredited by the American Camp Association, the Howell Conference & Nature Center offers both day and resident camps for children of all ages! Each week offers different themed fun on nearly 300 acres of rolling landscape. Led by a professional and committed staff, featured camp activities include challenge/ropes courses, climbing tower, zip line, nature/environmental activities, and the Wild Wonders Wildlife Park. Other traditional camp activities include archery, campfires, canoeing, fishing, swimming, and field trips. Many resident camp weeks enjoy off-site trips such as Mackinaw, Sleeping Bear Sand Dunes, and Kings Island. All of our modern lodges offer convenient accommodations including indoor showers and bathrooms, large common rooms for gathering and meals, and central air-conditioning. Campers will enjoy all the comforts of home while experiencing the beauty of the great outdoors
Day Camp: 1st-5th grades
Day Camp Extreme (DCX) 6th-8th grades
Resident Camp: 2nd-12th grades
-
Girl Scouts of Southeastern Michigan  
CAMP INNISFREE 
Click Here for Address and Phone Number
Camp Innisfree is on 995 wooded acres, located between Howell and Pinckney, Michigan. The property is also home to the Innisfree Equestrian Center. Girls can choose to attend half or full week sessions of Summer Camp, or focus on horseback riding during a half or full week session of Ranch Camp. We make camp educational as well as fun, with experiences that combine safety with adventure! Campers develop courage, confidence, and character under the supervision of our caring counselors with a low 2:12 counselor to camper ratio in age-appropriate housing. There's truly something for every girl — horseback riding, nature exploration, swimming, boating, archery, ropes courses, creative arts, performing arts, and plenty of new friends! Girl Scout Camp is a great place for a girl to unlock her potential with the support and guidance of our caring staff. Summer camp provides an experience for girls that will build friendships and memories that last a lifetime! Camp Innisfree is accredited by the American Camp Association and meets and exceeds the standards of Michigan Camp Licensing and Girl Scouts of the USA. Girl Scouts and non-Girl Scouts are welcome.
Camp Innisfree Open House, April 20th, 2013, 1-4pm
Open to Girls entering grades 2 through 12 in the fall
June 30- August 11
Starting from $240 per half-week, $340 per full week
bjohnson@gssem.org
The Kensington Farm Learning Center is offering children age 8-13 the opportunity to participate in a unique summer program. Participants in the Farm Center's Farm Camp will experience the sights, sounds, and smells of a real, working farm. Campers will be transformed into farmers as they participate in daily farm chores! Every day will offer a new adventure. Campers will participate in daily farm chores as well as various organized activities. This camp is very much hands-on and provides children with farm experiences that will leave a lasting impression. Planned activities may include:·
Outdoor adventures such as a nature hike or a scavenger hunt.
· Variety of craft projects that will stimulate your child's creativity, such as candle dipping, T-shirt prints, and many others.
· Experience life as a pioneer. Participate in an old-fashioned barn raising; learn rope skills and teamwork.
· Experience the life cycle of a chicken, first hand, by watching eggs hatch in the Farm Center's incubator.
· Hand-milk a cow and help prepare a dairy product, such as ice cream.
· Participate in old-fashioned games such as sack races, egg toss, straw-bale rolling, and needle in the haystack.
· Experience a horse-drawn hayride and hand-plowing the fields with one of the farm's teams.
· Help maintain one of the Farm Center's several garden areas.
June 18 thru June 21
debbie.cavallaro@metroparks.com
CARLS FAMILY YMCA 
Click Here for Address and Phone Number
The Carls Family YMCA Camp Sunshine (3-4 year olds), Camp Huron (5-10 year olds) and Teen Adventure (11-14 year olds) invite your campers to participate in a summer worth remembering. Through hands on experience we will explore several new adventures in 2013 through our weekly theme based programs. Kids will also enjoy playing games each and every day and through positive relationships each camper will experience growth in social development, character development and educational learning. We strive to be the best we can be for your campers. Whether your child is a preschooler, youth or teen, the adventures they will experience are endless.
June 10-August 30, 2013
Cost varies depending on days attending. Choose a plan that meets your needs.
Camp Sunshine (3-5 yr olds) 2, 3 or 5 day options 9:30am-4:00pm
Camp Huron (5-10 yr olds) 3 or 5 day options 8:30am-4:00pm
Teen Adventure (11-14 yr olds) 3 or 5 day options 8:30am-4:00pm
Before and after care options available at no additional costs.
jhancook@ymcadetroit.org
THE LEARNING TREE 
Click Here for Address and Phone Number
You don't have the summer off, but your child does.
So give them the best summer break. The Learning Tree Day Camp allows children to do what they love—have fun! What they don't realize is that the rock climbing, art, cooking, water play, structure fun and sports are developing healthy habits, building self-esteem and teaching social skills—that's the Learning Tree way. With four field trips a week and one jam-packed day of fun at the center we make it easy for you to know your child is having the best summer.
Nutritious breakfasts, lunches and snacks along with all the field trips are included in the weekly tuition. Children are transported to all field trips in state inspected, GPS equipped mini buses. A smaller version of Day Camp is offered for children entering Kindergarten supplying them a very fun summer before their school journey begins. Be the fun parent we know you are and sign your child up for The Learning Tree's Summer Day Camp.
June 10th - August 30th
Day Camp: $205.00/ week, Pre-K Day Camp: $191.00/ week
Day Camp: 5 years; must have completed Kindergarten- 13 years.
Pre-K Day Camp: 4-5 years.
Child Care: 6 weeks- 5 years.
lthowell4@gmail.com
HOWELL PARKS AND RECREATION
Bring your friends and meet some new ones while participating in outrageously fun activities like sports, games, swimming, archery, fishing, computers, team work skills, cookouts, nature study, music, drama, arts and crafts, and much more! The Howell Recreation Summer Day Camp is jam packed with a variety of activities and non-stop fun to keep children ages 5-10 active throughout the summer. Each week will have its own unique theme that will include character development (caring, honesty, respect, and responsibility) rolled into every activity.
Howell Recreation Summer Day Camp offers you the opportunity to enroll your kids for the entire summer or pick the weeks or days that work best for you. Camp will begin at 8:00am and end at 5:00pm. Working parents have the option to add AM or PM extenders to their child's summer camp day. AM extender begins at 7:00am and the PM extender goes until 6:00pm.
The mature counselors and staff are trained in CPR and First Aid, carefully selected, screened, and have outgoing personalities. Counselors will ensure that character development (caring, honesty, respect, and responsibility) rolls into each activity.
Campers are required to bring their own lunch and drink each day to camp. Snacks and drinks are provided to keep their energy up throughout the day
Campers who reside in the City of Howell, Oceola, Marion, and Genoa Townships will receive a resident rate on weekly and daily camp fees. Families who are registering more than one child will receive $10 off each additional campers weekly base camp rates. There are no sibling discounts on AM/PM extenders or daily drop-offs. All campers must pay a one-time/summer nonrefundable $20 registration fee. This covers administrative costs, insurance, supplies, and a camp t-shirt. To reserve your space, campers must also pay a non-refundable $25/ week deposit for each week of anticipated participation. Payment in full for weekly camp is due two weeks prior to the start of the week of participation. There will be no refunds if a camper doesn't attend camp for one or more days during the week regardless of reason. Requests for refunds of weekly camp fees will be honored if the request is received in writing at least 10 working days before the start of the week of participation.
The base camp weekly rate includes a weekly field trip. Our day camp weekly field trip will be on Thursday unless otherwise noted. An additional fee of $15 will be collected for those daily campers who attend camp on the field trip day.
6/17-8/23
Weekly Rates Times Resident Non-Resident
Base Camp 8am-5pm $165/week $190/week
AM Extender 7am-8am $15/week $21/week
PM Extender 5pm-6pm $15/week $21/week
Daily Rates Times Resident Non-Resident
Base Camp 8am-5pm $45/day $55/day
AM Extender 7am-8am $4/day $6/day
PM Extender 5pm-6pm $4/day $6/day
CREATIVE ARTS AND OUTDOOR ADVENTURE CAMP 
Click Here for Address and Phone Number
School Age Summer Campers at Building Blocks will create visual art projects exploring a variety of materials and techniques: Creative Art, Drawing, Painting, Photography, Pottery, Printmaking, 3D Art, Woodworking, etc. Students will be exposed to a wide variety of visual arts, a daily creative process and learning different artists and their techniques and will explore different mediums. In August, students will showcase their work at an Art Show. Your child will enjoy a daily GREEN HOUR® and will enjoy unstructured play and interaction with their natural environment (Highland State Recreation Area). Through a partnership with Heavner Nature Connections children will enjoy weekly field trips to local county, state and metro parks and museums for a variety of ecoadventures, environmental education programs and art appreciation and inspiration. Summer Campers are provided with a cooperative environment where children learn together, make choices together and grow together as friends. It is these traditional camp elements, integrated with high quality programming that ensures Building Blocks Creative Art and Outdoor Adventure summer campers will have a well rounded camp experience that builds memories of a lifetime.
Preschool Summer Camp at Building Blocks is an inspiring setting inside and out, children blossom as they learn naturally in a school environment with real materials. Building Blocks follows an emergent curriculum and follows the interest of the child. This may include butterflies, clay, camping, gardening, bugs, sunflowers, etc. This process allows the children a deeper learning by researching and studying the topic of their interest. The children will enjoy open ended art, clay, field trips, hands on math and science, and journaling. Tuesday and Thursday's are water fun days which balances play, imagination and science exploration. The children help in gardening and explore the natural outdoor environment which teach sustainable practices as they learn to care for themselves, each other and the world around them. The Highland State Park/forest is our playground where nature provides a wide range of opportunities for physical exploration and imaginative play. The seasonal cycles are celebrated through curiosity, exploration, and journaling as children develop a personal relationship with the teachers, friends, and the natural world. Your child will receive a sense of wonder and joy as a foundation for a love of learning is cultivated.
Grades Preschool-6th
INDEPENDENCE LAKE 
Click Here for Address and Phone Number
Activities include: Fishing, arts & crafts, swimming, nature hikes, group games and more. Enjoy the new Blue Heron Bay spray play area, which includes geysers, water tunnels, dumping buckets, waterslides (for children at least 42" tall), and an accessible water-play structure. Nature hikes travel through diverse habitat including wetlands, prairies and great stands of oaks.
For children who have completed kindergarten through age 11
June 17 to August 23 (ten one-week sessions)
$135/week (pre- and post-care available for an additional fee)
ilcp@ewashtenaw.org
MAPLE TREE MONTESSORI SCHOOL 
Click Here for Address and Phone Number
Maple Tree Montessori Academy in Brighton is pleased to offer six two-week Biome Camp sessions for Summer 2013. These sessions will focus on the biomes of the earth (Desert, temperate forest, tropical forest, ocean, and grasslands), studying the plants, animals, people and habitats as well as climate of each biome. This will be done in the context of a full and authentic Montessori classroom including: sensorial, math, language and culture and practical life activities such as gardening and art. You may also choose Class and Camp allowing your child to stay for lunch and outdoor water play. Full day camp is available for parents who need longer childcare hours. Suzuki Violin and Project Read will also be offered and can be chosen independently or in conjunction with other camps. All camp teachers and assistants are American Montessori Society certified. Special instructors may teach enrichment classes.
Ages 3-10
June 17-August 23 (2 Week Sessions)
2 Week Biome Class 8:30-11:30am $200.00
2 Week Camp & Class 8:30am-1:00pm $300.00
2 Week Full Day Camp 6:30am-6:00pm $400.00
info@mapletreemontessori.com
BROADACRES FARM FOR KIDS 
Click Here for Address and Phone Number
Broadacres Farm For Kids specializes in making wonderful memories that will last a lifetime. Enroll your kids in an educational farming adventure. Day camps offer one week sessions of fun farm life. Some of the activities include: caring for baby animals, hay rides, phenomenal crafts, picnics in the hayloft, completing a farm book, horseback riding, and lots of good old country games. All of these activities and more, are provided on a clean, historic farm featuring 20 acres and eight beautiful barns. The camp director is a Howell Public Schools teacher, has been a 4-H Leader for 13 years, and has served on the Board of Directors for the Livingston County Farm Bureau. The dedicated and caring camp counselors provide a positive, safe and fun environment with memorable experiences. This year will be the 20th Anniversary!! They will be offering 7 weeks of camp that vary by theme, age level, and price. Call now for a brochure or visit their website.
Ages 3-13 years old
6/12-14 Preschool Camp
6/17-21 Basic Farm Camp
6/24-28 Basic Farm Camp
7/8-12 Basic Horse Camp
7/15-19 Basic Farm Camp
7/22-26 10+yr old Camp
7/29-8/2 Fibers Camp
sandyway@broadacresfarmforkids.com
SUNNY DAYS CAMP 
Hamburg Fitness Center & Camp 
Click Here for Address and Phone Number
Sunny Days Camp recognizes the importance of new experiences, opportunities to make friends, the development of interpersonal skills and the need to stay active. These values will help shape children for the future. All of our programming stresses healthy choices, staying active, leadership skills and teamwork. Sunny Days Camp is nestled on 80 acres of land rich with hiking trails, woods, lakes and much more. This camp will provide your child with opportunities to be imaginative and adventurous. Campers will discover nature and enjoy fun activities outdoors and indoors. Games and arts and crafts will encourage self expression while fishing, canoeing, hiking, archery, field hockey, basketball, soccer and swimming are designed to build teamwork, leadership and good health. Open House Date: May 18, 11 am-3 pm.
Ages 6-14
June 10-August 30, 2013
Monday-Friday 9am-4pm
Extended Care Available: Before Care $5, After Care $5
Member Rates: Daily (First Child) $31, Weekly $140
Daily (Additional Child) $28, Weekly $125
Non-Member Rates: Daily (First Child) $37, Weekly $170
Daily (Additional Child) $33, Weekly $155
Annual Registration Fee: Member 1st Child $25, Family $35
Non-Member: 1st Child $40, Family $55
Includes camp t-shirt and supplies. Sign up before June 1st and receive 1/2 off Annual Registration Fee
ENCORE YOUTH THEATER DRAMA BOOT CAMP 
Click Here for Address and Phone Number
Besides being incredibly fun, the theater helps young people develop many of the skills necessary for success in today's world: self-confidence, literacy, communication, imagination, empathy, public speaking, teamwork, critical thinking, and problem solving--just to name a few! Since 1991, Encore Youth Theater has been dedicated to the education of young people aged 8-18 in the dramatic arts through theatrical productions and summer camps. This summer we are offering three exciting opportunities for students to learn, grow, and have fun!
Creating Theater -- This full-day camp offers a unique opportunity for children to create their own production. They will work as a team to write their own script, create their own costumes, design their own set pieces, then peform it for a live audience. This will be an incredibly rewarding learning experience! (Please note: this camp has a minimum age requirement of 10 and experience level of 2 or more community plays.) July 22-26 - 9am-4pm $195
Show Time -- This full-day camp is dedicated to exploring the many different aspects of theater: acting, dancing, singing, costuming, lighting and sound, etc. The students will showcase what they have learned in a performance at the end of the week. This camp is great for children between the ages of 8-18 and welcomes all experience levels. July 29-Aug 2 - 9am to 4pm $195
Acting Up -- This half-day camp is dedicated to exploring the Fun-damentals of drama. Students will spend their time delving into acting and learning to get into character on stage. The students will showcase what they have learned in a performance at the end of the week. This camp is great for children between the ages of 8-18 and welcomes all experience levels. Aug 5-9 - 9am to 12pm or 1pm to 4pm $85
Prices for all camps include a camp T-shirt
-
LEAPS AND BOUNDS SUMMER SESSIONS 
Click Here for Address and Phone Number
The Hanen Program® is a group class for parents with children who have language delays. This program will educate and empower parents with the skills to facilitate their child's language development. Dates and times to be determined. Please contact our office for more details.
Summer Skills Program is a chance to continue to work on your IEP goals or fine tune some skills at Leaps and Bounds Therapy Services this summer. Leaps and Bounds offers individualized physical, occupational, and speech therapy sessions tailored to your child's needs. They provide quality therapy that is fun and will leave them well prepared for the up-coming school year.
Music Therapy can help your child work on their therapy or IEP goals. The board certified music therapist will be offering group and individual sessions throughout the summer. Music therapy can be used to address a variety of needs ranging from social-communication skills, academic-cognitive skills, emotional-affective needs, creative and appropriate self-expression, and fine and gross motor skills. Music as therapy is intrinsically reinforcing, and lends itself to incredible possibilities in responses!
-
TWIN ELM TRAINING'S SUMMER HORSEMANSHIP CAMP 
Click Here for Address and Phone Number
Twin Elm Training's goal for campers is to encourage appreciation for the horse by learning how to handle and care for the animal on the ground, as well as learning the basics of riding. To ensure everyone has a great time and is safe they offer two levels of camp, Beginner - Beginner/Intermediate and Intermediate - Advanced. Their first goal is to provide a safe and fun learning environment for all the campers. The camp director and instructors are experienced, professional horsemen with years of teaching experience. Along with the qualified instructors, Twin Elm Training has an equine staff of seasoned veterans. All of their camp horses were chosen because of their pleasant and willing attitudes. Twin Elm Training also provides and requires all campers to wear a certified safety helmet while riding and driving the horses. Campers must bring a sack lunch the first four days of camp; a pizza party is provided on Friday. Activities Include: Daily riding sessions, learning to drive a pony, learning general horse care, anatomy and terminology associated with the horse, and horsemanship scrapbook.
Beginner - Beginner Intermediate Camps Ages 7-16
June 24-28; July 8-12; August 12-16
Appropriate for campers with little to no hands-on experience.
Intermediate - Advanced Show Boot Camp Ages 9-16
July 22-26
Appropriate for campers with lots of riding and showing experience.
Typically campers have been competing and in a lesson program for at least one year.
$285.00
A non-refundable deposit of $50.00 due when signing up, remainder due by the first day of camp.
-
HEART OF THE SHEPHERD SUMMER DAY CAMP 
Click Here for Address and Phone Number
At Heart of the Shepherd your children will experience an exciting summer day camp! Children will delve into the natural world around them through topics such as music, art, sports, careers and talents, animals, nature and ecology. Visiting experts in these areas of exploration will help to enhance the learning experience your child will have at our day camp. Daily explorations will include science, math, art and literacy concepts taught by Christian Teachers who are educated & have extensive experience working with young children. Much time will be spent outdoors exploring our twenty acres that include nature/hiking trails, an extensive climbing ropes structure, massive sand pit, climbing rock, bike, skateboard and rollerblade area and an elaborate sprinkler system for those hot summer days! Your child will also benefit from our inside gymnasium where he or she will enjoy basketball, other indoor team sports, music and movement activities, crafts, projects and assemblies. Enroll your child for the entire summer, a week or two, or even just a few days. Check out our website in April for a complete listing of our weekly themed camps www.hotshepherd.org.
For children that have completed Kindergarten-5th Grade
June 10 - August 29
Closed July 4 & 5
8:00am-5:00pm $31/day or $139/week,
6:30am - 6:00pm $39/day or $176/week
Additional programs for children 6 weeks-preschool.
Grades 2-11
-
DETROIT LIONS YOUTH FOOTBALL SUMMER CAMP 
Detroit Lions Youth Football Camps and Academies are non-contact and designed to develop and enhance your player's beginning, intermediate or advanced skill-level. Athletes are grouped based on age and skill level. The camp features fundamental technique training through high-energy instruction and highly interactive drills. During our fundamentals camp the participants will spend two days on offense and two days on defense, learning each position on both sides of the ball. We will also incorporate special teams, skill challenges, and life lessons along the way to help make your young athlete successful both on and off the field. Detroit Lions Youth Football Camps are conducted by Director of Youth Football for the Detroit Lions Chris Fritzsching and the Detroit Lions Youth Football Coaching Staff which is made up of High School and College Coaches from around the state. For easy registration or for more information or additional locations, please visit www.DetroitLions.com/youthfootball or call (313)262-2248
June 10 – 13; 8:30am - Noon
$169
Boys and Girls Ages 6-14
youthfootballcamps@DetroitLions.com
GREEN ACRES DAY CAMP 
Click Here for Address and Phone Number
This Day Camp features lots of hands on animal experiences including horse care and riding, down and dirty gardening, backwoods adventure hikes and creative crafts. Campers will have the opportunity to bottle feed goats and lambs, play with Snuggles the pig, walk in the woods, ride Stormy the pony, collect eggs and watch chicks hatch, plant and maintain a garden, collect caterpillars and watch them change into butterflies, make crafts, play games and have picnic lunches under shade trees.
June - August
$200 per week
Grades K-5
GIGGLE GANG EXPLORES THE WORLD  
Click Here for Address and Phone Number
The camp is divided into five two-week camps which explore the worlds of celebrations, nature, sports, food and music, plus a one-week camp celebrating the end of the summer.
June 17-August 30
Ages 6-12 
howell@gigglegangdaycare.com
KINGDOM ROCK VACATION BIBLE SCHOOL 
First Presbyterian Church of Brighton 
Click Here for Address and Phone Number
This year at Kingdom Rock," look back into the medieval times and learn about God in a royal setting. Each day, children will hear a true story from the Bible which will be reinforced by a game, science, theatre, and cooking station. We will also take time to donate to a mission near and dear to our hearts, our own local food pantry -- Gleaners. The children will have an amazing opportunity to worship God with fun and exciting music. Kids will come home practicing their memory verse and their daily Bible Buddy's will help them remember to, "Stand Strong"!
June 24-28 9:30am-12:30pm
$20.00/child. Scholarships are available.
Preschool through 5th grade (as of Fall 2013)
meganh@brightonpresbyterian.org
PIONEER DAY CAMP 
Green Oak Township Historical Society 
Click Here for Address and Phone Number
This camp is designed to teach local history through hands on life skills that our ancestors would have known. For instance, we will dip candles, make bread, churn butter, spin wool& weave it, make marbles out of clay and much more. Each camper will keep a journal and oh, yes, a little history of the families that settled this area.
Day Camp
July 29 through August 2
$72
Ages 7-13